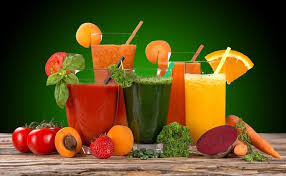 Detox drinks are simple to make — there are a number of fruits, vegetables and herbs that stimulate the detoxification process while providing vitamins and minerals that help put the body in a positive state of weight loss and natural healing. The body starts acquiring more energy and starts functioning properly when it gets the fuel its designed to have.
you don't need a doctor to detoxify your body. Basic human nature should tell us that, but sense so many of us are so far removed from our natural instincts we have to learn how to naturally take care of ourselves all over again. Experiment with detox drinks today and notice how light, fresh and clear-headed you will feel afterwards.  
Basically most of us are fueled by toxic overloads. Many of us are on to many medications, don't drink enough water, eat a lot of the wrong foods, drink to many caffeinated and sugary drinks and have some bad recreational habits such as smoking and things like that. With just a few seconds a day , you can supercharge your body to restore itself to the best of health . You'll feel younger, slimmer, and more vibrant.
The human body has many natural pathways to allow detoxification. Our bodies detoxifies itself  through the liver, sweat, urine, feces, kidney, lymphatic system and lungs.  Detox Drinks can change your life with some efforts from your desire and dedication to obtain a better lifestyle. Are you ready to experience a new way of life?  In this article I've outlined three great detox drinks that will help you with constipation, kidney cleansing and immune system improvement. 
Adding detox drinks to your daily diet is a wonderful way to start undertaking an approach to losing weight, If you start detoxing your system and improving your health the weight is sure to fall in line with your health and weight loss goals. Detox drinks are way more beneficial than diet pills and other faddish diets.  In Addition , they are certainly cheaper than weight loss surgeries, pills and programs.  A juice cleanse isn't going to do anything that your body doesn't already do on its own. Our bodies are already pretty good at removing toxins